With winter just around the corner, we are once again reminded that with this beautiful changing of seasons comes some cautionary warnings. Kelowna has seen a spike in crime rates and now has the unenviable title of the city with the 'fastest growing crime rate in the country' as reported in the news media last week. These statistics make us question how we can protect our homes and businesses in this already challenging year. The good news is that the addition of improvements such as security film and privacy film are measures that you can easily take to protect yourselves and add a little peace of mind.
So, what is window security film?
The name does a pretty good job of describing the product, a film bonded onto your business or home windows that reinforces the glass panel preventing easy "smash and enter access." When the glass is broken, the film holds the glass in place and within its frame. Considering 70% of all illegal entry is gained through broken glass in doors and windows, this has become a highly recommended addition.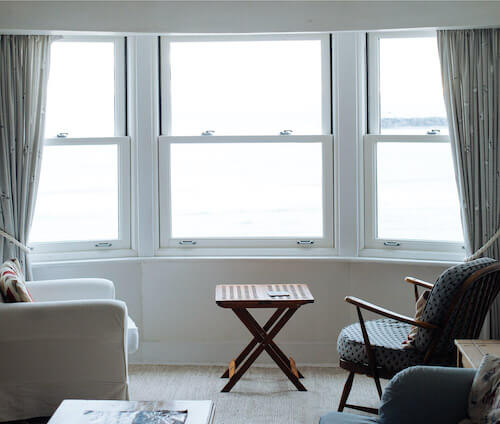 What benefits do I gain from window security film?
Besides peace of mind, the best reason to add preventative security measures to your business or home means reduced risk of successful break and enter attempts. There is also the added bonus that many insurance companies in the Okanagan may offer a discounted rate to your insurance fees when a security film is installed on your windows.
Is security film easy to install?
Security film is bonded onto the window, so making sure the sizing is exact and the application produces no visible flaws means we suggest you use a professional installer. The edges of the film are then bonded neatly to the frame with an industrial strength caulking.
What if I want something less robust?
When a security film is properly installed by a professional there should be no difference in the appearance of a window itself. However, if you are looking for something a little more simple there is also a thinner version referred to as safety films. These are great for areas of high risk for glass breakage but do not provide the strength of a security film. Basically, safety film protects people from the dangers of flying glass when windows are accidentally broken. These films are most often used where concerns about child safety and the elderly are an issue. While there is no visual difference between safety and security films, safety films do not have the strength of security films and therefore provide less protection against intruders. Both safety and security films can also have the benefits of solar control, privacy tinting, and UV reduction which you can read more about here.
As Kelowna and the Okanagan expand so does the inflation of security issues. Taking these simple extra precautions will pay off in the long run. Contact us for a free consultation on window security film installation today.